Across the world, nations are implementing regulations and laws about accessibility. With an increasing number of individuals heading online to fulfill essential services, from ordering food to making financial payments, all users need equal access to website content more than ever. However, for the 135 million individuals with disabilities in the European Union, accessing these products and services poses significant challenges. To tackle this problem, the European Commission has introduced the European Accessibility Act (EAA).
What is the EAA?
The European Accessibility Act (EAA) is a legislative initiative by the European Union (EU) promoting the accessibility of products and services for persons with disabilities. The act was adopted by the European Parliament and Council in 2019 and is part of the EU's efforts to create a barrier-free and inclusive society.
The main objective is to ensure that a wide range of products and services are accessible to people with disabilities. The EAA sets out general requirements that organizations need to follow to achieve accessibility. Some key areas of compliance include:
Digital Accessibility – websites, applications, documents
Communication and Emergency Services
Transport and Mobility
Access to Audiovisual Media Services
Accessible Products and Services – banking, e-commerce, e-books, ATMs, etc.
The EAA Timeline.
Companies impacted by the European Accessibility Act must meet the final deadline of 2025. By June 2022, all EU member states completed the translation and adoption of the directive into their respective national legislation. The enforcement of the law is required by July 2025.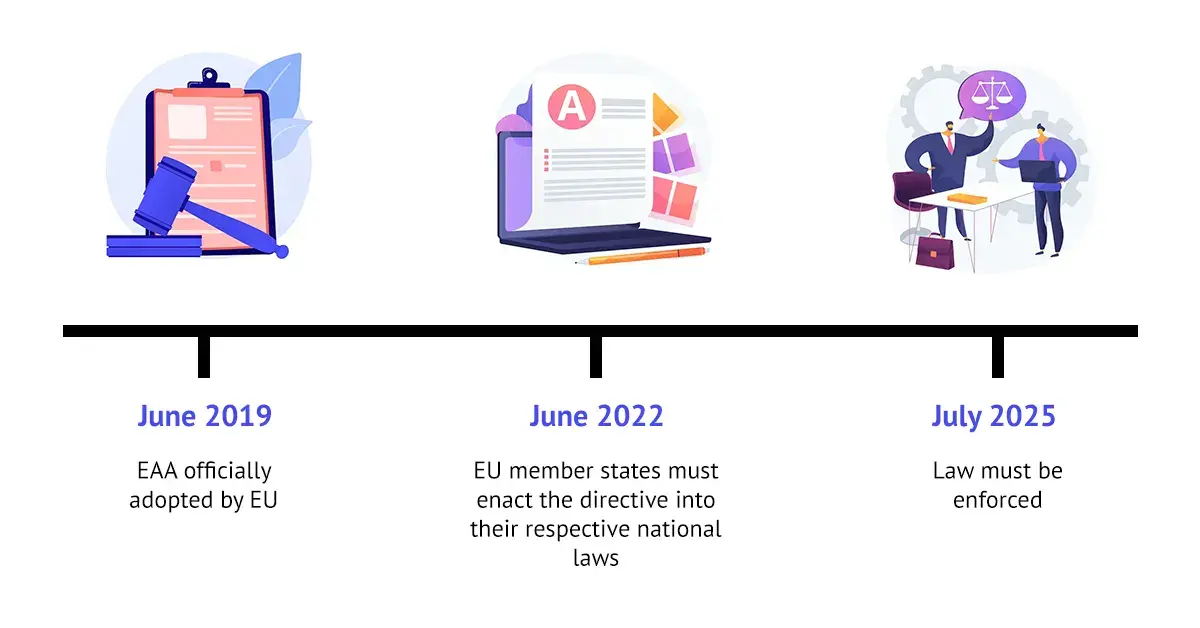 How will the EAA affect your business?
According to European Union, this directive will not only help individuals with disabilities but also provide businesses with a single set of rules regarding accessibility in the EU, leading to:
Reduced costs
Seamless cross-border trading
A larger market
By meeting accessibility compliance standards, you are opening your products and services to a much wider audience.
The EAA Standards Compliance.
The EU Accessibility Directive outlines specific guidelines for ensuring document accessibility as well as the accessibility of websites and applications. These guidelines primarily rely on the Web Content Accessibility Guidelines (WCAG) and PDF/UA as a standard for achieving accessibility compliance. It is safe to assume that if your website and documents are compliant with the standards, you comply with the EAA law.
Let's Analyze: WCAG or PDF/UA?
PDF/UA and WCAG are both technical standards sharing the goal of accessibility in different contexts. PDF/UA addresses accessibility considerations for PDF documents, while WCAG provides standards for web content accessibility and HTML-based material developed by the World Wide Web Consortium.
Over the years, since its establishment in 1995, the WCAG has served as a guiding principle for businesses aiming to enhance the accessibility of their digital platforms. It already serves as the foundation for legal standards like the Americans with Disabilities Act (ADA) and Section 508 compliance in the United States.
PDF/UA
The core of PDF/UA is developed and written by the PDFA (the PDF Association). It covers over 30 checkpoints, success criteria, and guidelines to achieve document accessibility. PDF/UA was approved and published by the ISO. In addition, to foster the adoption of PDF/UA, the Matterhorn Protocol was designed to specify a set of tests to facilitate the exchange of detailed information on PDF/UA conformance.
Regardless of the location and base of your business, these are international ISO standards for accessible content adopted by countries worldwide. Thus, incorporating them ensures that your business aligns with global accessibility requirements.
PDFix Accessibility Checker
Stop searching, you are in the right place! PDFix offers free PDF accessibility checker to help you ensure that your files are truly accessible. It provides a fast way to check PDF files for compliance with PDF/UA standards and makes it easy to spot all problems. What's more, it finds accessibility issues, explains the problem, and offers suggestions on how to resolve each issue.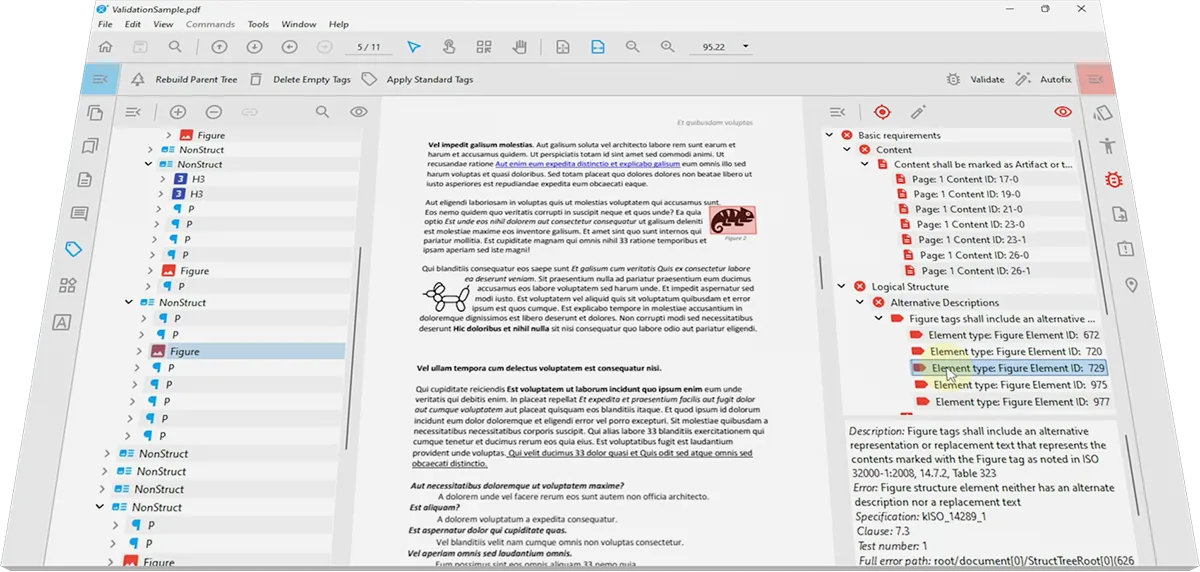 PDFix Desktop Lite provides an automated way to check the accessibility of a PDF file.
Support for PDF/UA-1 (machine) validation leveraging the Matterhorn Protocol
Industry supported PDF/UA Validation
Ability to define further checks to enforce institutional policy
Quick navigation to errors in Tags, Content, or Annotations panes
Conversion to HTML for visually evaluating the logical structure and reading order
Compatible with PAC, Adobe Acrobat
The Best Place to Start.
Explore and invest in PDF accessibility software or tools that can assist in the remediation and creation of accessible PDF documents. These tools can automate accessibility tasks necessary for your business, such as adding alternative text or validating accessibility compliance.
PDFix Desktop Pro is a complex solution for PDF Accessibility, PDF Conversion, and Data Extraction designed for professionals and businesses of all sizes.
---
For Windows, Linux and macOS
Desktop Lite
PDFix Desktop Lite is a multiplatform PDF viewer with a built-in accessibility tool.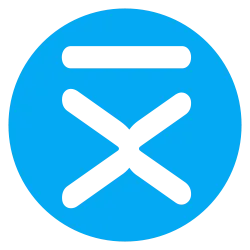 Desktop Pro
PDFix Desktop is a complex solution for PDF Accessibility, PDF Conversion and Data Extraction designed for professionals and businesses of all sizes.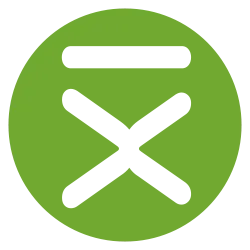 SDK
PDFix SDK is a cross-platform solution to Automatically Extract Structured Data from any PDF.